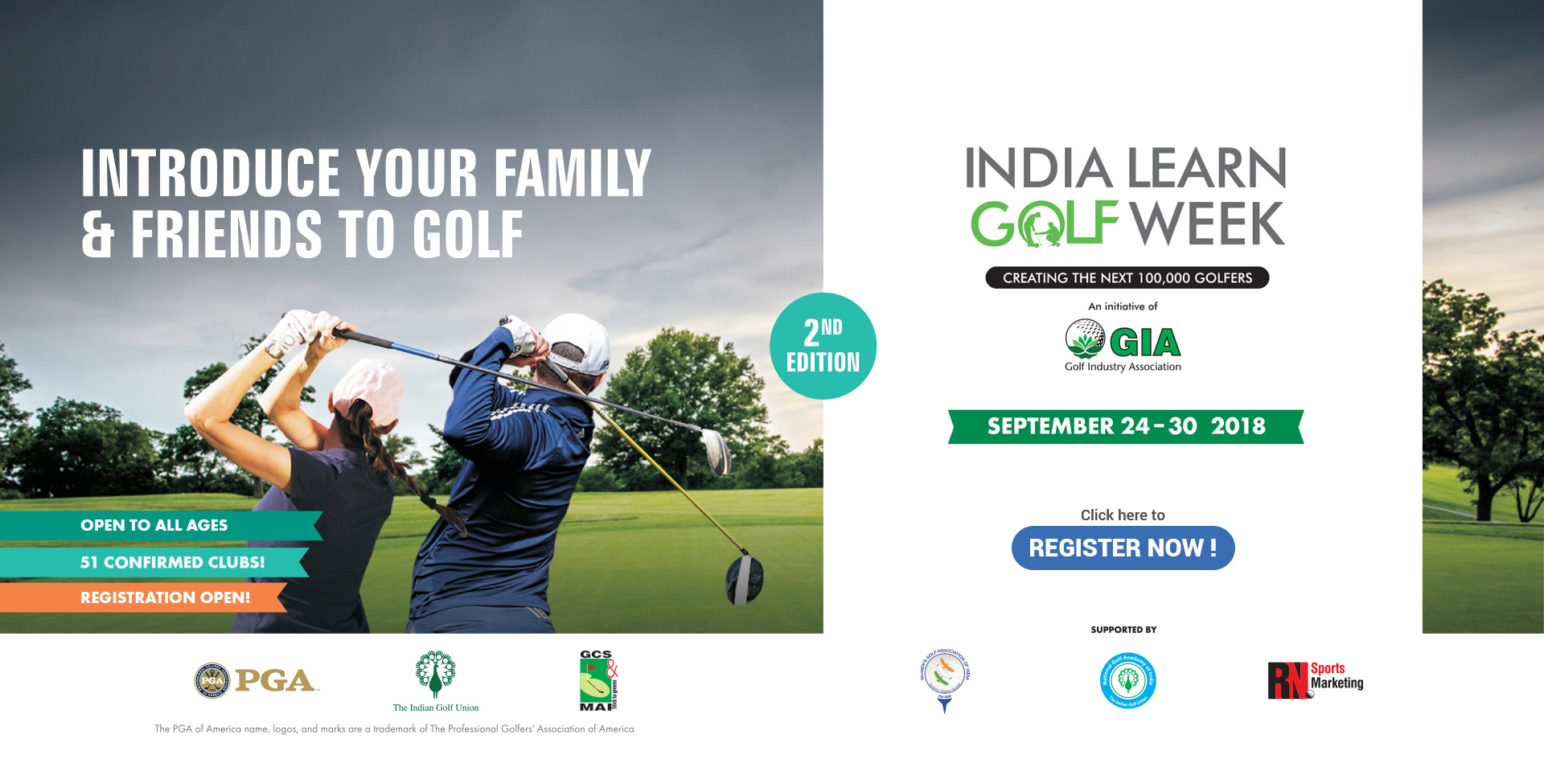 Testimonials

Devang Shah, President, GIA : "Our first edition of India Learn Golf Week went off extremely well. I would personally like to thank all the participating clubs for showing huge amount of enthusiasm and to all the people who came out in bug numbers to support the initiative and participate in the sport of Golf. Looking at the success of the inaugural edition, we look forward to a much bigger second edition in 2018."

Rishi Narain, Managing Director, RN Sports Marketing : "This was our first ever initiative of this scale and we are really happy with the outcome. We hope that this becomes an annual fixture and we are able drive even more people to participate in the game."

Aparajit, President, IGU : "There has been overwhelming response to the Golf Week from across the country and we are now working to exceed the target. I think with the success of players like Anirban, SSP, Aditi and Ganganjeet in recent times, the excitement around the sport is at an all time high. The ILGW will be a great opportunity for youngsters to ride this wave and bring glory to the country."

Champika Sayal, Secretary General, WGAI : "India Learn Golf Week is a great initiative for introducing players to the game. Being a catalyst for growth of golf, undoubtly there will be a surge of Olympic aspirants in the game for all age groups and sports persons from other sports as well."

Gaganjeet Bhullar, Professional Golfer : "Excellent initiative and nice to know that so many clubs and stakeholders have come together with a long-term vision for the game. I have always felt that Golf has great potential in the country and regular initiatives like this can help unearth hidden talent from all parts."

Rahil Ganjee, Professional Golfer : "I whole-heartedly support the India Learn Golf Week and wish it a great success. Kudos to the organizers for bringing an institution like the PGA on board and this will go a long way in spreading the popularity of the game in the country."

Alpesh Parikh, Director Consultant, Gulmohar Greens Golf & Country Club : "We are really delighted and glad to become a part of this initiative. This is first step towards building a proper golf eco – system and we at Gulmohar Greens Golf and Country Club are proud to be a part of the India Learn Golf Week."

Munish Patel, CEO, Kensville Golf & Country Club : "As a part of the Ahmedabad golf community one of the upcoming destinations for golf in India we are extending our full support to the India Learn Golf Week. I really feel if this initiative becomes a regular fixture we would be able to achieve our target of producing young world class golfers very soon in the future."